experience Food Tours, team building, and culinary events with Annapolis Food Tours
Welcome to Annapolis Food Tours, the city's premiere source for Food Tours, and other culinary events and activities in and around the city. Our activities combine the area's history, architecture, and culture combined with local food and drink from local establishments.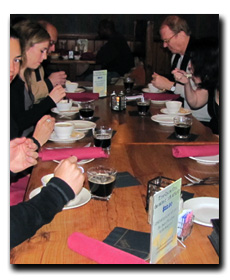 Our activities take you through the history of Annapolis, introducing you to today's culinary scene in Annapolis. The restaurants we choose are historic, innovative, or an important part of the culture of the city.
The Annapolis Food & History Tour is ideal for people looking to truly experience the city.
Check out our current Annapolis Food Tours, Pub Crawls, and other culinary events and enjoy the history, culture, and cuisine today!
Our goal is to show you the story Annapolis; you will eat where the founding fathers ate and where they wish they could have eaten.
Annapolis has been the place for good eating for hundreds of years. It was said no one living in colonial Annapolis would go hungry , because they could live like a king on the bounty of both the Chesapeake Bay and the rich land.
As much as things have changed, they have stayed the same. Annapolis is still the place for delicious food, and the variety of food and dishes has only grown.
Enjoy the perfect present for any occasion- an Annapolis Food Tours gift certificate
Choose the activity, and we will take care of the rest. Our gift certificates are good for any of our Annapolis, Baltimore, and DC Food Tours, or our private tours and Culinary Events. We will add your personal messages and mail gift certificates to your family, friends, and loved ones.
If you want to purchase a gift certificate to be mailed to you or the recipient, please email us at info@foodtourcorp.com, or call us at 410-248-6726. A representative will contact you back, and will take you through the steps of purchasing the gift certificate. We charge an additional $10 to mail your gift certificates to cover time, ticketing credit card fees.
To make your gift giving easier, you can now purchase your gift certificates online. With a few clicks, you will be all set!
If you have any difficulty at all with the new system, please accept our apologies and call us any day of the week at 410-248-6726, or email us at info@foodtourcorp.com